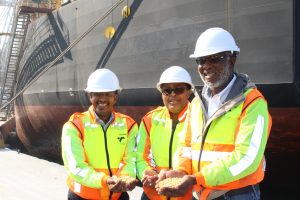 From left: Grain Farmer Development Association (GFADA) Chairman, Neo Masithela, Eastern Cape Rural Development and Agrarian Reform District Director for Alfred Nzo, Ms Bukiwe Madyibhi, Matatiele based farmer, Tebogo Mongoato showing off maize from the Eastern Cape to be exported to Vietnam. the maize was produced as part of the Department's Agriculture Economic Transformation Strategy implemented by the province with farmers and partners like GFADA. Pic by Thozi Manyisana. Below is the Vietnam Maize Export Preser Audio
DRDAR STATEMENT ON EXPORTING EC MAIZE TO VIETNAM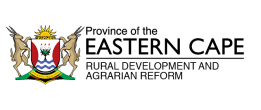 For more information, please contact:
Mvusiwekhaya Sicwetsha
DRDAR Communications
0829558833
The Eastern Cape Department of Rural Development is excited by the results of the investment it has made to support emerging black farmers of Matatiele to produce maize commercially and now sending it to Vietnam and other countries.
We are proud of the performance of our strategic partners, GFADA who joined hands with us to help improve the grain production of these farmers who lacked secure markets for their produce.
We are happy that they are now selling their maize to local markets, export markets and are getting good profits for their hard work.
Sending this maize to foreign markets confirms that the Agriculture Economic Transformation Strategy we are implementing is the correct strategy and our method of investing our own money and partnering with commodity groups is the right approach.
As part of the implementation of the Agriculture Economic Transformation Strategy the department signed a service level agreement with the Grain Farmer Development Association tasking it to support emerging black grain farmers to produce maize on 3 350 hectares for commercial markets in the Joe Gqabi and Alfred Nzo districts of the province.
The department invested R10 million for Matatiele farmer's production inputs and mechanization, with GFADA covering crop insurance, soil corrections, mentorship and finding market for the grain produced by farmers.
About 14 farming cooperatives from Matatiele are participating in this program bringing land used for the production of the maize to 2 416 hectares for the first production.
The total tonnage estimated from Matatiele farmers when they all complete harvest is 8 658, 00 tons and we estimate that this will earn them about R18. 7 million.
Though some fields of the farmers were hit by floods and hail, majority of the crop coming from the fields is quality crop suitable for both local and export markets.
To us as government this proves the positive results of transformative land reform programs when farmers are given proper support by government and the market buys crops from all farmers, including emerging farmers who are largely black.
Our department will continue working with GFADA to develop farmers for the next five years and we are optimistic that this partnership will yield more results such as contributing in transforming the agriculture sector and increase farm net income for these farmers.
We are happy that from this program farmers are learning smart and prolific ways of producing maize using correct methods practiced by commercial farmers.
The broader commodities produced under the Agriculture Economic Transformation Strategy include red meat, wool production, mohair, fruit like citrus, pineapples, deciduous, macadamia, vegetables.
All these are key elements in growing the Eastern Cape Economy. We invite other people with interest to do business with the province.
Our five year plan is to produce grain on 100 000 hectares of land in Amathole, Chris Hani, Joe Gqabi, OR Tambo and Alfred Nzo districts of the Eastern Cape.
Ends…
NB: This statement must be attributed to Mr Mthiyiseli Hamilton Ntsabo: Chief Director District Coordination and Chairperson of the Grain Cluster responsible for this project.