December 2022 marked the highest cost of the National Agricultural Marketing Council's urban food basket with 28 items
Food Basket Price Monthly is a report released by the National Agricultural Marketing Council (NAMC) on a monthly basis that tracks the inflation rate and the price trend of 28 essential foods that make up the NAMC urban food basket. A food basket is a representative basket of goods and services used to determine the cost of living. This includes food in categories such as animal protein, bean products, bread & cereals, coffee and tea, dairy & egg products, fats & oils, fruit, vegetables, and sugary foods. Typically, a household purchases these items as part of their daily needs.
Using Stats SA's official December 2022 data, the NAMC recently released its January 2023 Food Basket Price Monthly report. The report shows an increase in the prices of staple foods in South Africa. According to the report, the nominal price of the NAMC's 28-item urban food basket increased by 12.8% in December 2022 compared to December 2021 year-on-year (y/y), costing R1 131.01 versus R1 119.34, or 1.0% more monthly. This marks the highest cost of the food basket in 2022.
According to Thabile Nkunjana, an agricultural economist at the NAMC, he attributes the increases in global food inflation this year to several factors, including elevated crude oil prices, climate change related issues, geopolitical conflicts, and the continuing effects of COVID-19. He further stated that due to the variety of foods that South Africa produces, food inflation has been moderately cushioned during 2022. Though South Africa produces a wide variety of foods and exports them around the world, it nevertheless occupies a very tiny market share. As a result, it lacks much ability to meaningfully affect prices.
In December 2022, 24 of 28 food items had price increases that exceeded the South African Reserve Bank's 6% inflation target, with onions (47.0%), followed by apples (32.7%), sunflower oil (28.1%), maize meal (27.0%) and Ceylon/black tea (24.3%) leading the way.
The basic food basket remains too expensive for people whose only source of income is the R350 grant. The rising food prices have prompted South Africans to take to social media to express their concern.
"Generally, food is currently expensive in South Africa… " tweeted @KwenFaith.
"Food is so expensive yo… Whether you are making or buying " tweeted another user, @Chef_Keeks.
The high price of food is not just affecting those on a tight budget, it has caused many others to change their shopping habits as well. Even those with a comfortable income are feeling the pinch, with many having to cut back on their grocery spending or opting for cheaper, less healthy options.
Are South Africa's food inflation rates worse than those of other countries?
The report also includes global food inflation for Brazil, Russia, India, China, and South Africa, as well as food inflation in the United Kingdom (UK), a trading partner and countries around South Africa (see figure 1). Low food inflation was reported in India at 4.2% y/y, followed by China (4.8%), Russia (10.3%), Brazil (11.6%), Namibia (11.8%), Zambia (11.9%), South Africa (12.4%), UK (16.2%) and Botswana (16.9%). Several countries saw higher food inflation in 2022 than the countries depicted below. Zimbabwe, Lebanon, Venezuela, and Turkey, for example, reported annual food inflation of 321%, 203%, 158%, and 102%, respectively, in 2022.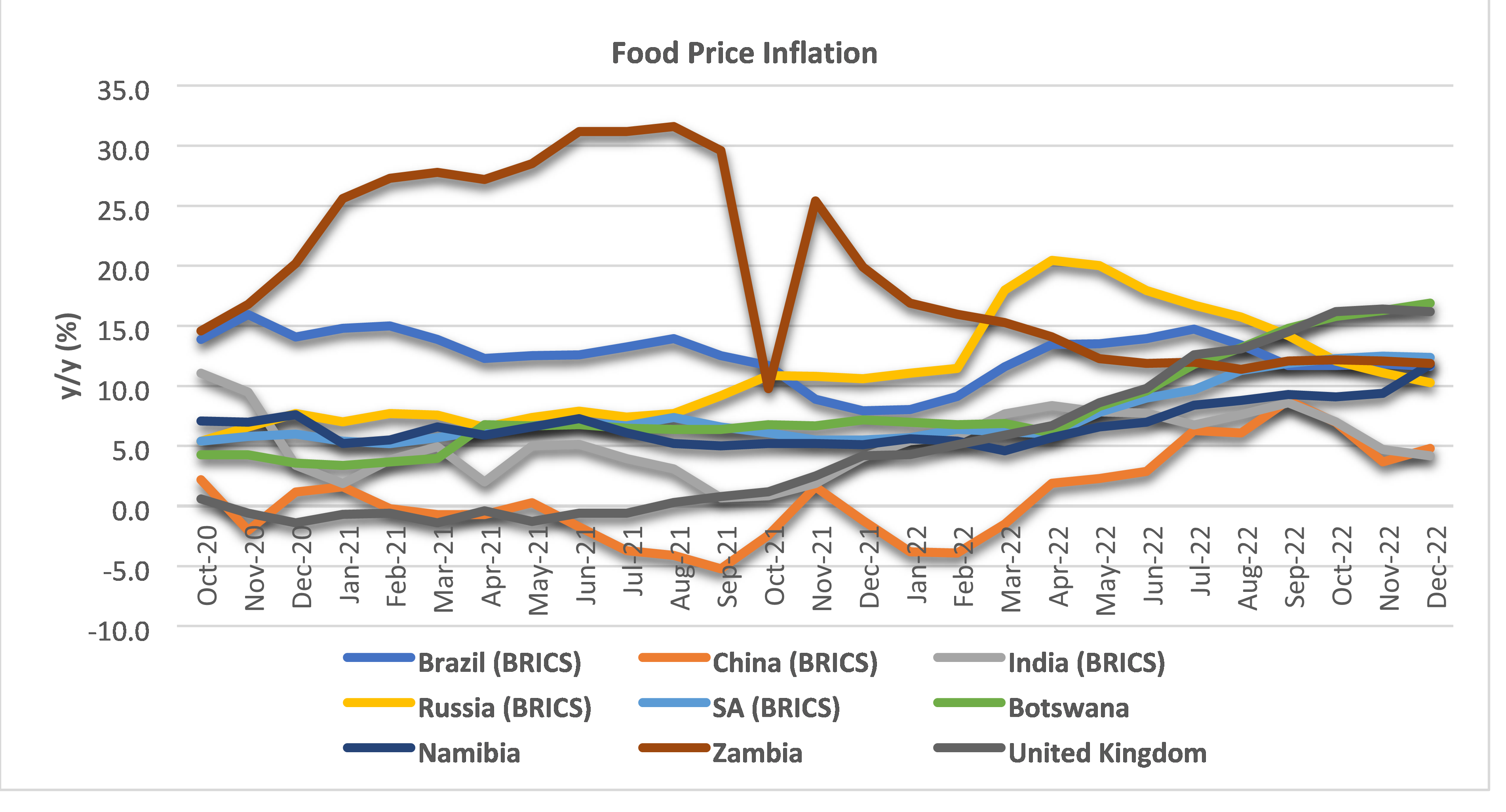 Figure 1: Global food Inflation
Source: Trading Economics, 2023, NAMC calculations
Despite the concerns expressed, one user noted that food prices have been rising around the world for a decade.
"For the last 10 years, food prices have been going up all around the world! Even in South Africa we experience the same situation!" tweeted @Bright_Nhlakah.
The cost of food is clearly a major concern for many people, and steps must be taken to address this issue. Even though factors such as weather and currency fluctuations are hard to control, improving supply chain efficiency and reducing waste are steps that can help bring down prices.
In the meantime, it is important for individuals and families to do their best to stretch their budgets and make smart shopping choices. By looking for sales and discounts, planning meals in advance, and experimenting with new, cheaper ingredients, you can save money. Even as food costs rise, it is possible to eat well on a budget with a little creativity and planning. We invite you to join our discussion about how food prices have affected you and what you have done to survive.
For more information, download the latest version of Food Basket Price Monthly at: https://www.namc.co.za/FBPM